History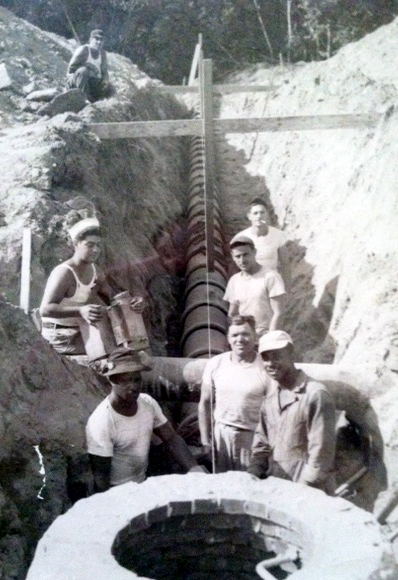 Laborers Local 60
Pipeline Crew 1962
---
History
Chartered on October 17, 1928 by Laborers International Union of North America (LIUNA!) Laborers Local 60 has left its impact beyond the boundaries of Westchester and Putnam Counties, as evidenced by its participation in all aspects of heavy construction. The scope of work performed by the highly skilled membership is very diversified: from building, repairing, and maintaining bridges, interstate highways, state and county parkways, secondary roads and city streets; mass transit projects associated with trains, buses and planes ( for example bus stops, train stations, track road beds, runways, etc.); executing all phases of utility work, and engaging in all facets of fabrication relating to systems that supply drinking water, which encompasses the construction of a tunnel, shaft, aqueduct, dam or reservoir. A contingent of the membership is qualified to work in confined space, retaining the necessary licenses and certifications mandatory for the handling of asbestos, toxic waste, lead, and chemical abatement. Confirmed by its involvement in all stages of the Delaware Water Supply System, the Indian Point Nuclear Power Plant, the past and present Tappan Zee Bridge contracts, and its association with respect to the building and maintenance of sports complexes, proves that Laborers Local 60 does it all!
The continuing challenge of modern technology and the need to perform at our accustomed high level of proficiency, relating to all of the various phases of construction covered by members of the local, dictates the necessity to constantly improve the expertise of our already highly skilled, competent labor force and to that end, the Local 60 Training Program was officially established in 1989. Responding to the need for more qualified and better trained workers, the local instituted an apprenticeship program in 1997. The program, which is approved by the New York State Department of Labor and Laborers International Union of North America, has been very well received by Local 60 signatory contractors.
The greatest benefactor in this labor/management partnering concept, benefitting more than a successful, profitable, extremely satisfied contractor association and the highly regarded reputation of the local union is the INDIVIDUAL WORKER. If members of this local avail themselves of the opportunities provided through training and a conscientious, workmanlike effort is put forth, then any laborer in Local 60 can be secure in the knowledge that a viable future is readily attainable for them and their families. Obtaining the benefits derived from predecessors in the trade, consisting of a decent wage, health insurance, pension, annuity and retirement planning are only a partial concern that local union officials maintain regarding the membership.
The ideal perception is the scenario where our union supplies an applicable service to a member of the contractor's association via referral from our membership list and those workers perform admirably, earning their wages, garnering the respect of the entire labor industry in general, emanating an immense self-esteem that only an employed, well trained worker can possess. This sense of accomplishment will instill in any worker both stability and depth, thereby providing and enriching a desirable quality of life for the laborer and his or her family. The realty of this perspective is paramount in our purpose.