COVID-19 RELATED INFORMATION AND RECOURSES
---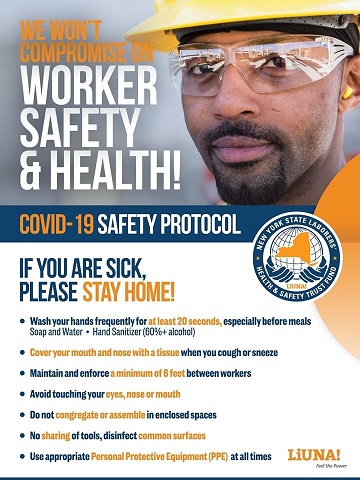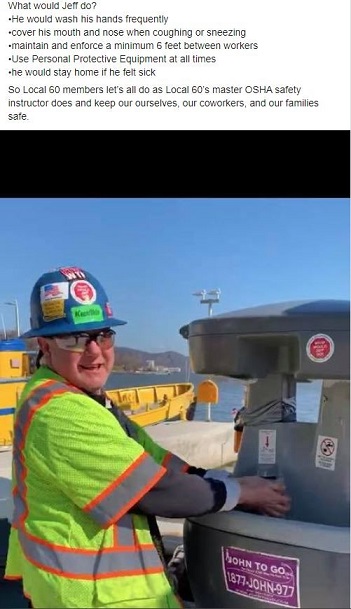 Membership Meeting
The regularly scheduled May 26, 2020 Membership Meeting has been cancelled

The Local 60 Membership should be advised that the majority of the work that falls under Local 60's jurisdiction is currently still being considered essential construction and most of our signatory contractors are operating and staffing their projects.

Any Member who has been laid off should register their names on the out of work list. The Union Hall, Benefits and Training Departments are all operating remotely with normal business hours. Physical access to the office building and training facility has been suspended, however anyone on the staff can be reached by phone, mail or email. Documents and important information can be obtained from our websites. It is strongly urged that you follow us on Facebook https://www.facebook.com/LIUNALocal60/ and sign up for our text message blasts for more up to date and immediate information.

For those who are working please stay safe and use the COVID-19 safety protocol and if you feel sick please stay home.

Please follow the link below to view a special message from LIUNA General Secretary-Treasurer and New England Regional Manger Armand E. Sabitoni.
http://www.nysliuna.org/nysliuna/assets/File/COVID-19/Special-Message-From-Armand-E-Sabitoni.pdf

The following is a link to the NYS Laborers Tri-Funds website for COVID-19 resources. On this page you will find helpful links to various health and safety tips, as well as links to NYS agencies, handling Unemployment insurance, paid family leave, debt collection freezes and more.
http://www.nysliuna.org/coronavirus-covid-19/?fbclid=IwAR2FElexZ0HfJlt1hJuKjbfMMwFOGSV26-EEmJQjcs_ViSKJ6-yQCS0GJH4

If you find yourself out of work due to the COVID-19 public health crisis please follow the links provided for information on Federal and State legislation to see if you qualify for these benefits.
https://www.dol.gov/…/whd/pandemic/ffcra-employer-paid-leave

https://paidfamilyleave.ny.gov/COVID19

We wish the best to you and your families may you all stay safe and be well. As a Union we will continue to support each other, we are stronger together.
Delivering DIversified Skilled Union Labor That Meets The Needs Of Today's Challenging Construction Market.
---
Laborers Local 60
The Brother and Sister members of the Laborers international Union of North America Local #60 has been proudly building, repairing and maintaining the infrastructure of Westchester and Putnam Counties since 1928.
 
Our members are highly skilled, trained and experienced in all aspects of infrastructure development both above and below the ground. from building our roads and bridges, installing and maintain our water, sewer, drainage and natural gas pipelines and building and maintaining our aqueducts, dams and water treatment plants.
 
As an organization we are committed to improving the lives of our membership by providing proper training, health care and pension benefits to all of the hard working and dedicated men and women of LIUNA Local 60 who continue to serve our Union and our community with "Justice, Honor and Strength."
---