Delivering DIversified Skilled Union Labor That Meets The Needs Of Today's Challenging Construction Market.
---
Laborers Local 60
The Brother and Sister members of the Laborers international Union of North America Local #60 has been proudly building, repairing and maintaining the infrastructure of Westchester and Putnam Counties since 1928.
 
Our members are highly skilled, trained and experienced in all aspects of infrastructure development both above and below the ground. from building our roads and bridges, installing and maintain our water, sewer, drainage and natural gas pipelines and building and maintaining our aqueducts, dams and water treatment plants.
 
As an organization we are committed to improving the lives of our membership by providing proper training, health care and pension benefits to all of the hard working and dedicated men and women of LIUNA Local 60 who continue to serve our Union and our community with "Justice, Honor and Strength."
---
Sexual Harassment Training information
Sexual harassment training can be done by going to the link below. Training is available in English and Spanish.

https://www1.nyc.gov/site/cchr/law/sexual-harassment-training.page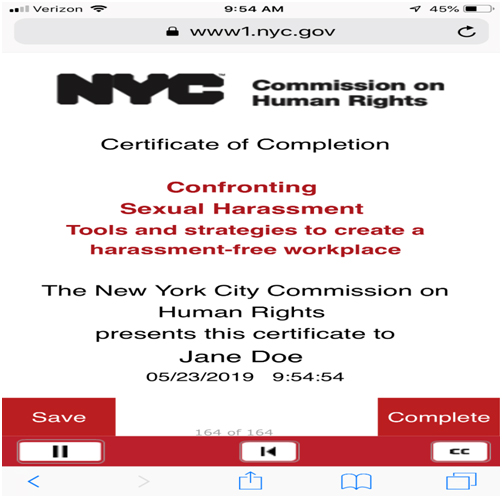 The NYC picture shows where you have to save or print the certificate. Please print or save before clicking complete. Once you click complete the certificate goes away.